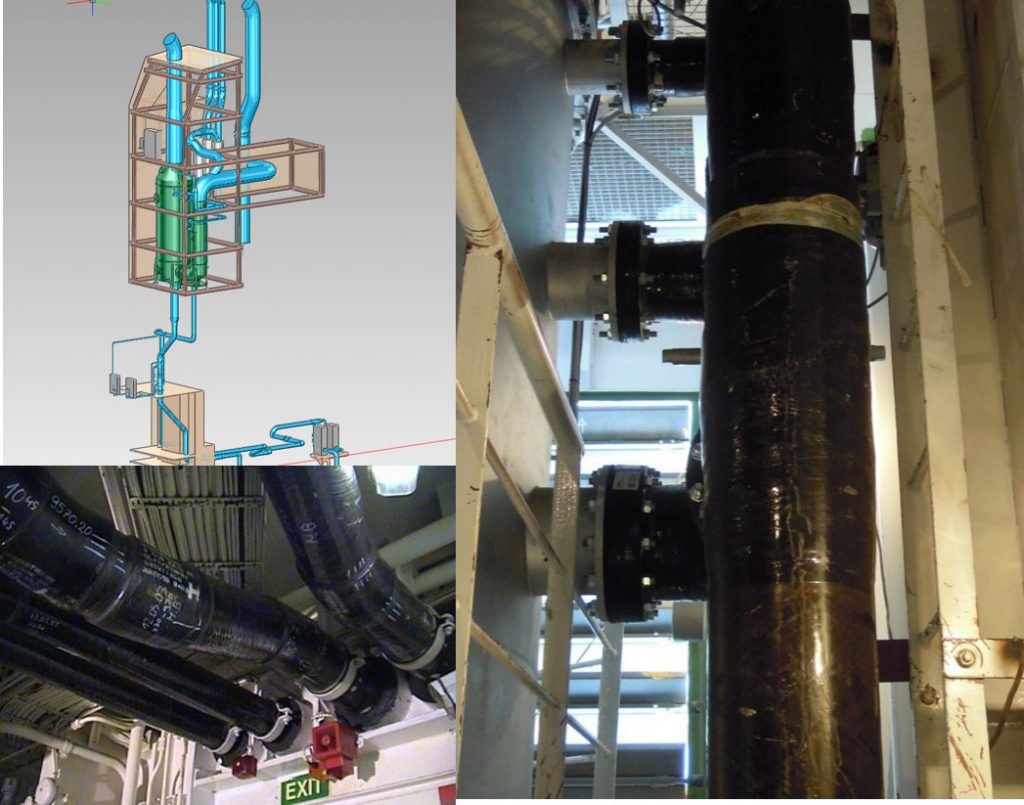 Technology is constantly moving forward, offering improvements in land, sea and airborne applications and Materials Science is a critical technology area that has produced the highest results over the last decades, from lighter & faster aircrafts to boosting the efficiency of the Diesel Engine.
In shipping, the unrelented need for lighter, stronger and maintenance-free alternatives to steel has been largely satisfied via composites like fiberglass (FGS), Fiber Reinforced Polymers (FRP), Glass-Reinforced Epoxies (GRE) etc., in applications like yacht hulls, pressure vessels, GRE piping of any size, molded pultruded floor gratings (FRP) etc.
In the highly corrosive seawater environment, it was mostly the Oilfield exploration and production of the late '70s – early '80s that gave usage of composites a big boost on oil rigs, deep-sea platforms and gradually to tankers, bulkers etc.
Composites got gradually established as the best alternative to metallic materials in order to reduce weight and also maintenance costs due to their natural immunity to corrosion.
Tanks, cable trays, bulkheads, handrails and floor gratings topped the applications list, while the '80s saw the strong introduction of fiberglass reinforced 'plastic' pipes for conduction of corrosive water or other corrosive liquids on board vessels. Regarding piping, for example, there is no reaction between the piping systems and the environmental and there is therefore no galvanic corrosion, stress corrosion or other forms of corrosion. This led to a very widespread application of GRE pipes today, that of a ship's ballast piping system. The maintenance of a corroded carbon steel water ballast system is an elaborate process, involving carrying out inspection of the system, requiring tanks to be gas-free and made safe for entry, identifying where the corroded sections of the piping are, finding a suitable time and suitable drydocking facilities, planning for the cutting out of the corroded sections and removal of pipe sections. The pipe section can only be removed by cutting the outer or the inner bottoms in way of the tanks. After new section of carbon steel pipes are inserted into the tanks, the tank top or tank bottom needs to be welded back in place and the welding seams inspected by the certifying classification society. This process is naturally both expensive & time consuming. On the contrary, fiberglass pipes and fittings can be used throughout this system, starting from the sea chests valves through the inlet of the pumps located in the machinery spaces or pump-rooms, outlet from the pumps through the bulkheads and into the suction/discharge bellmouths. In short, the joining systems bulkhead penetration pieces, expansion couplings, suction bell mouths, pipes and fittings can all be in GRE for this application.
Naturally the GRE material cost vs that of conventional carbon steel is higher, but the installation cost is significantly lower for reasons of lightweight, flexibility etc., so the "total installed cost" equals at worst that of traditional steel piping. The combination of this with the total lack of maintenance for GRE piping makes this alternative by far preferable, explaining its widespread prevalence after the last couple of decades. Further GRE applications, like chlorinated systems (e.g. in BWTS) crude oil washing, Main Engine seawater cooling lines and predominantly today scrubber piping are "mainstream", all naturally approved by all ICAS classification societies.
In this field, the US Group of National Oilwell Varco, NOV, is mastering the business and is the worldwide leader in the design, manufacture and sales of equipment and components used in the Oil & Gas drilling & production operations, the provision of oilfield services and supply chain integration service to the upstream Oil & Gas industry. In October 2011 NOV acquired Ameron USA, the leading producer of Fiberglass-composite pipes for transporting oil, chemicals & corrosive fluids via its famous Bondstrand® product series.
Our company, N. Bogdanos Marine Bureau has been representing Ameron and then NOV FGS since the late '80s, having introduced fiberglass materials in the Greek market and today is proud to have helped install GRE piping to approx. a thousand vessels, owned and operated by over 70 prominent Greek shipowners, mainly in the two most usual applications, those of ballast lines and scrubber installations, via fleet agreements.
Similarly, in the field of Molded Fiberglass Grating (FRP), many Oil & Gas groups like Petrobras started in the 80's adopting it on its offshore platforms with structures such as floor gratings, handrails cable trays, ladders & structural profiles, replacing corroding heavy steel. Molded fiberglass gratings are corrosion-resistant, fire retardant, low in maintenance, lightweight, easy to install, uniform in appearance, resistant to impact, low in conductivity, bidirectional load-bearing and cost-effective.
Strongwell USA, which N. Bogdanos Marine Bureau represents in Greece, is the oldest (since 1956) manufacturer of FRP products and the world leader in pultruded structures. Its Duragrate® molded fiberglass grating is a strong mesh grating panel that is the chemical resistant flooring choice for many industrial and marine / offshore applications. It is significantly lighter in weight than metallic gratings and the high-resin content provides excellent corrosion resistance that requires very little maintenance, if any at all. A higher safety factor is achieved by designing in a higher glass content at the bottom of the grating, for greater tensile strength. Furthermore, all of the resins contain a UV inhibitor.
These today nature technologies of FRP/GRE composite materials represent typical examples of the continuous improvements that global shipping and Greek shipping have gradually adopted, increasing the specification level of the vessels, while reducing the maintenance costs and easing vessels' operation.