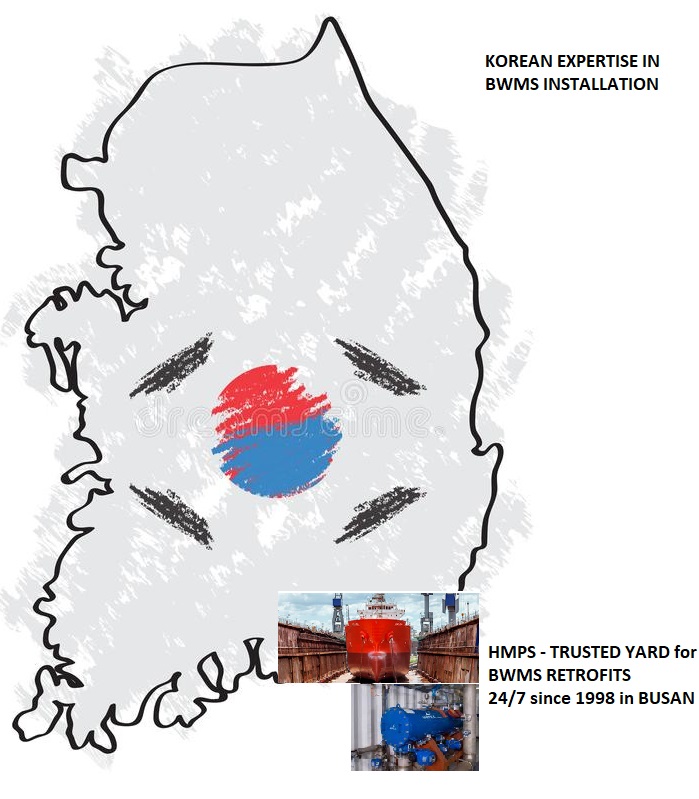 Do not wait too long before installing BWM systems…
According to the recent Clarksons Research stating, thousands of vessels still need to install ballast water treatment (BWT) until the deadline in Sept. 2024, ie. 3 within years from today.
Within this short time-frame, we would like to introduce our Principals HMPS Korea (Hae Myung Project Services Co Ltd) that ensure the highest quality BWMS retrofits standards at the North China / Korea region.
Benefits:
Convenient Location
Excellent Quality
Trusted by Prominent Greek Owners
Longstanding Experience & Expertise
Competitive Pricing
Shorter Installation Downtime
High-class technicians
Global Certificates proving a comprehensive management system for quality, work safety and environment
Added-Value Service:
Combined with every type of Ship Repairs & Maintenance either ashore or afloat
EEXI-Boosting Retrofits
All-Type Ship-side Underwater Ship-Repairs
Engine Overhauling & Maintenance
Quayside Dockings & Dry Dockings
Dual Fuel BOG & FGSS Conversions