Nico Bogdanos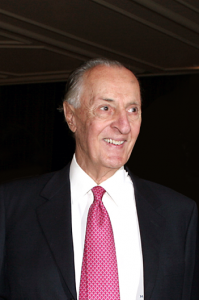 Nico Bogdanos, founder of  N.Bogdanos Marine Bureau, was born in 1921.
His law studies were interrupted due to WWII where he voluntarily fought in the Allied air force in the Middle East for four years. Once the war was over, he decided to follow his dream, sailed to the United States of America to become a Naval Architect and Marine Engineer.
After obtaining his degree he worked for Bethlehem Steel Corporation being engaged in shipbuilding and ship repairs, a field which was then only known to the daring few.
After 10 valuable and successful years in the United States he decided to return to Greece and establish the first marine technical office in Greece in 1956.
The knowledge he had acquired, along with his integrity and thoroughness, quickly earned him a reputation. He soon became the consultant and surveyor of marine underwriters and newly created classification societies, such as Lloyds, US Salvage Association (USSA), the Salvage Association London, AHIS, RINA, BV, ABS to name a few.
Greek shipping was growing and with it new surveyors entered the shipping community, many of who were trained by Nico Bogdanos.
Respect and strong relationships were built during those early years, which led the company to expand its field of activities to appraisers, arbitrators, valuers and shipyard and marine equipment representations. His personal engagement in shipowning gave him an even deeper insight of the maritime needs.
Member of the European technical committee of ABS, Member of the Greek technical committee of ABS and BV, Member of the Marine Club, awarded best agent by ASRY and Lisnave a number of times, having a testimony of appreciation from the society of Naval Architects and Marine Engineers are a few of his achievements, the greatest of which is the legacy of reliability and trust he has left us all with.
He retired in 2007, content to see the continuation of the company he founded being enriched by high professionals, second and third generation of his family.
He peacefully passed away in March 2015.